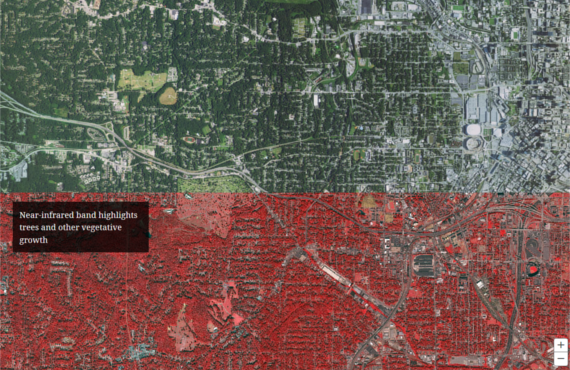 Atlanta 2014 UTC Story Map
This guided presentation showcases the history and methods of Atlanta tree canopy classification. Step through the project timeline and read about the results of comparing imagery from 2008 and 2014. See statistics and metrics for the Urban Tree Canopy in the City of Atlanta, with discussions regarding the implications of land cover and canopy change.

Highlights include an overview of the land cover classification process using satellite imagery, from raw imagery to classification and finally aggregation to cell study areas and other geographic boundaries.
Interactive 2014 UTC App
After learning about the history and process of the Atlanta Urban Tree Canopy project, dive further into the data with this useful mapping application. Datasets developed from 2008 and 2014 classified canopy studies are linked to common geographic boundaries like neighborhoods and council districts. Filter through data layers, create charts and graphs of canopy cover values, or take a closer look at the raw imagery.

Start exploring Atlanta canopy data here – change visible layers, filter results, view different basemaps, and add you own data to the map. Results can be saved to PDF for easy sharing.